I'm so excited that my original track called "Black Friday" is being released on Stripped Recordings. This one's on the tech house vibe, funky and groovy. Remixers include Smak (aka Steve McCready), Ed Lee, and La Torre.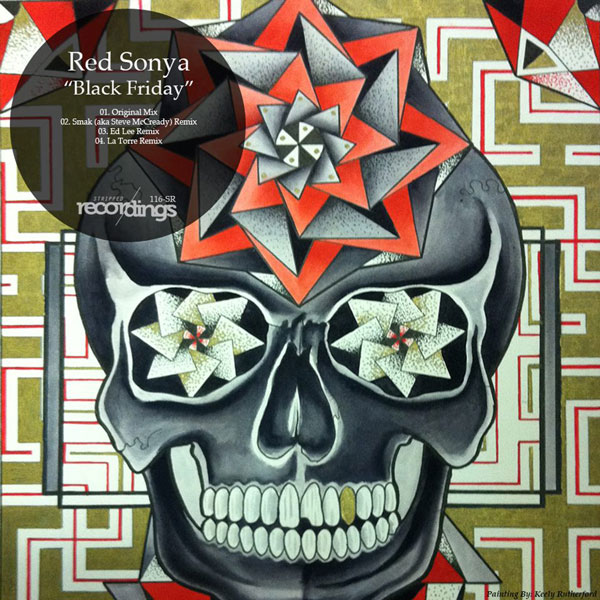 Sonya Lynn, aka Red Sonya, spins fresh and firey beats that have the power to elevate the energy of the dance floor wherever she roams. She began spinning deep house music in 2001, and has since become known for her signature blend of minimal techno and tech-house with dirty bass lines and layers of tripped-out funk. Red Sonya cant be missed with her mane of red hair, and her piercing blue eyes, this scarlet diva is packing them in wherever she is. From DJing, to hosting events, from dancing, to promoting, shes a one person army pounding the dance floor with infections beats. She has been doing everything she can to have fun and have her music heard. For Sonya, DJing is a way of life. Red Sonya after remix collabs with her partner Alien Tom and one which included label head Norman H on Hype Muzik in 2012 now strikes out on her own for the first time with "Black Friday" theoriginal is accompanied by remixes from Smak (aka Steve McCready), Ed Lee and La Torre. This is maybe her first but certainly wont be the last we'll here from Red Sonya.

Buy this "Black Friday" release on Beatport!
DJ Support: RICHIE HAWTIN, JOHN DIGWEED, HERNAN CATTANEO, MAX COOPER, ERICK MORILLO, IAN O'DONOVAN, LONYA, SAHAR Z, SOUNDEXILE, GUILLE QUERO, DAVID GRANHA, DARIN EPSILON, SEZER UYSAL / SPENNU, LUKE PORTER, MUUI, SEB DHAJJE, LEE PENNINGTON, ALEX RUBIO, GRAZIANO RAFFA, VIPUL, PRAVEEN ACHARY, GERARDO BOSCARINO, PRETTY CRIMINALS, and more…