Gigs & Events
Saturday, March 24th, I'm DJing 12-1 in the gallery at Exchange LA for Insomniac presents Inception feat. Claptone & Tube & Berger! Who wants to go!? Let's do this! I haven't played in Los Angeles in a minute!
Friday, March 9th, 2018, Join us at Kava Lounge for Digital Cocoon featuring special guest DJ Red Sonya, plus resident DJs Big Hugs, Jan Ozlanski, Hokum, Will Lavin. Great music and great vibes! House and Techno all night!
Sunday, March 11th, Levinson Group Presents Sunday LOUD! Join us at Brick bar in Hillcrest from 12pm to 8pm for this Sunday Funday event launch party! Great house music with the best vibes indoors & outdoors. Prizes and gift giveaways all day. Vendors, face painters & more!
Recent Music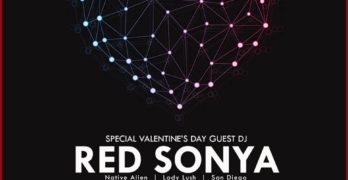 Download and listen to the live recording of my Valentine's set from Dance Klassique at Blonde bar, recorded Wednesday, February 14th, 2018.
I had the pleasure of playing on my birthday for the grand opening night of T is 4 Techno, Tuesday December 5th. Here's my #Tis4Techno set! Enjoy!
We are proud to announce our Red Alien remix of Nicolas Petracca's Imagination Fields is available for pre-order now and will be released 12/1 on Beatport.