Gigs & Events
Sunday, March 11th, Levinson Group Presents Sunday LOUD! Join us at Brick bar in Hillcrest from 12pm to 8pm for this Sunday Funday event launch party! Great house music with the best vibes indoors & outdoors. Prizes and gift giveaways all day. Vendors, face painters & more!
Alien Tom and I are playing poolside on Friday, May 4th for a special Red Alien Invasion set of house & techno at West Coast Weekender 2018. The lineup is stacked day and night all weekend, we can't wait for our Staycation here in San Diego!
Soul Work and United By Bass cordially invite you to Spin Nightclub on Saturday, April 7th for a night of banging House & Techno with Jesse Perez, Red Sonya, Donald Thump & Kennos. Get your presale tickets now!
Recent Music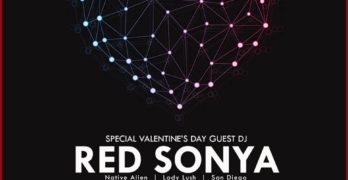 Download and listen to the live recording of my Valentine's set from Dance Klassique at Blonde bar, recorded Wednesday, February 14th, 2018.
I had the pleasure of playing on my birthday for the grand opening night of T is 4 Techno, Tuesday December 5th. Here's my #Tis4Techno set! Enjoy!
We are proud to announce our Red Alien remix of Nicolas Petracca's Imagination Fields is available for pre-order now and will be released 12/1 on Beatport.