Tropical Events and MuTribe are teaming up to bring Tropical Oasis Retreat to Hawaii January 26-30, 2018! They are bringing our favorite West Coast DJs and dancers together with the best of Hawaii to the beautiful island of Kauai! Alien Tom, Mark E Quark and myself will be representing San Diego on this massive lineup of DJs, and we invite you to come along on this adventure with us!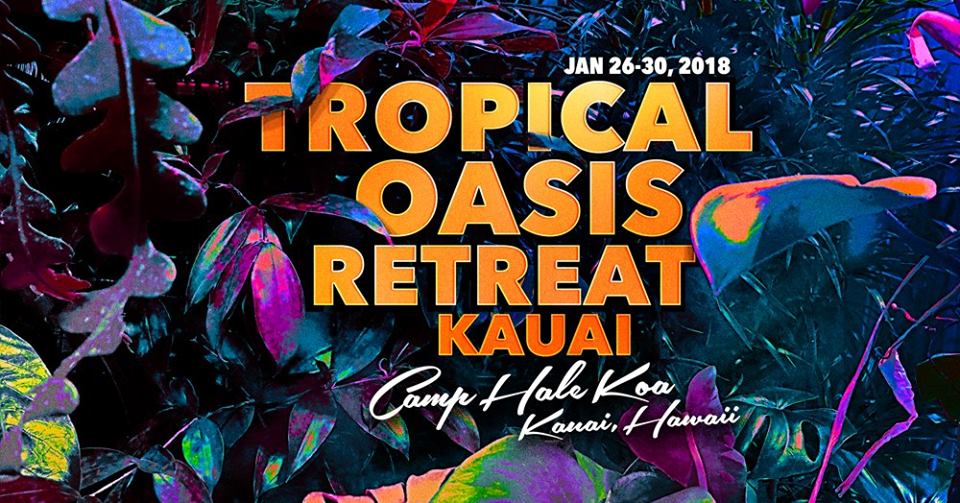 Check out the basic info below and be sure to RSVP to the Tropical Oasis Retreat Kauai Facebook event to get updates as they are announced!
This very special, limited capacity event will be a retreat like none other you've been to! You will be picked up from Lihue airport, transported to the event location with a stop for snacks and supplies en route, and fed 2 meals a day on site by local chefs with omnivore and vegan options. On site we will dance, yoga, massage, hike, share meals and stories in paradise!

Where on Kauai is this fine event?
We will be at Camp Hale Koa in the jungle north of Waimea. Don't worry about getting there as shuttle service is included in ticket cost. This is a camping event, a rustic retreat if you will, but we do plan to offer camping upgrades for those who don't want to bring camping gear on the plane.

We will be gathering at a most beautiful place, you can check their web site: http://camphalekoa.com/ There really aren't hotels nearby, but we encourage those who wish to continue their vacation after the party with a bit more luxury on Kauai's north shore so we can enjoy the gorgeous ocean, snorkeling, hiking, and nature of the Emerald Isle.

About Camp Hale Koa
Hale Koa is a serene group camping property nestled on the hillside of Kauai's spectacular Kokee Mountain State Park. Surrounded by the island's rich forest, Hale Koa offers a unique rustic camping experience for memories that will last a lifetime. On site are 2 shower / restroom facilities, a game room with pool table, air hockey and ping pong and a large meeting hall with a good sized kitchen. There is no cell service in the Kokee area, a landline phone is available in the kitchen for emergencies.

When all is said and done we will take you back to the airport, either to go home, or perhaps rent a car and continue your adventure exploring the beautiful nature on the island of Kauai!
First Phase Lineup:
Second Phase Lineup: