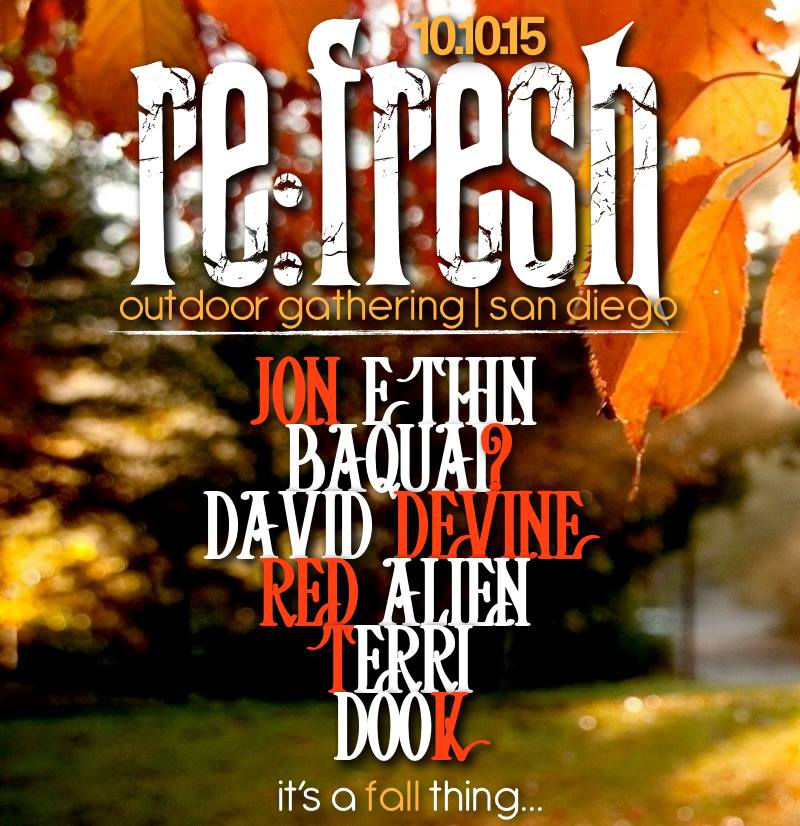 Re:Fresh | Outdoor Gatherings | itS a fall thing…
October 10, 2015 2:00pm – 9:00pm
** FREE EVENT *
Now that summer time has ended, it's time to break out a mini event series to celebrate the FALL SEASON…!! So come and join us as we bring out the spooky in our daytime bOOgie for this month of OCTOBER…!!
Re:Fresh is best known as a summertime tradition, since this past year Re:Fresh has taken a step forward to bring you more outdoor gatherings throughout the year in our lovely city of San Diego. So here we go for our summer session of 2015, bringing out the best in local talent & special guests alike to collaborate, bridge communities both in & out of the music scene… A special time to enjoy & experience fresh music, meet fresh people & gEt yOUr bOOgie oN…!!
diSc jOckEyS fOr tHE dAy:
David Devine | Re:Fresh | SD
mixcloud.com/daviddevine73/
soundcloud.com/david-devine
Jon E. Thin | The Outer Limits, Eternal, SD Underground
soundcloud.com/jon-e-thin
Baquai? | GoodGhost | SD
soundcloud.com/goodghost
Red Alien | Native Alien | SD/LA
www.alientom.com
www.djredsonya.com
soundcloud.com/alientom
soundcloud.com/djredsonya
Terri | SD
Dook | V.S. SounD | SD
:::::::::::::::::::::::::::::::::::::::::::::::::::::::::::::::::::::::::::::::
This is a family friendly, dog friendly event in a public outdoor space. Please be respectful to the event location and it's surrounding areas.
Items you may bring to the event: Tents/ Canopies, Small BBQ's (propane), Umbrellas, Blankets, Chairs, Food, Snacks, Beverages CANS ONLY (NO KEGS/ NO GLASS), Sunscreen, Towels, Games etc.
*** ALCOHOL is permitted CANS ONLY!!! NO KEGS/ NO GLASS | Please Drink Responsibly!
*** PLEASE KEEP MIXED DRINKS IN PLASTIC CONTAINERS AND USE PLASTIC CUPS
*** PLEASE BE COURTEOUS & CLEAN UP TRASH
*** LEAVE NO TRACE…!!!
and as alwayS keep it fResh…!!
:::::::::::::::::::::::::::::::::::::::::::::::::::::::::::::::::::::::::::::::
Contact me if you need the event location!