Native Alien presents Dia de Los Muertos Friday, November 1st – Sunday, November 3rd, 2013. Join us for a celebration of those no longer with us, and a dance party for those who are with us today.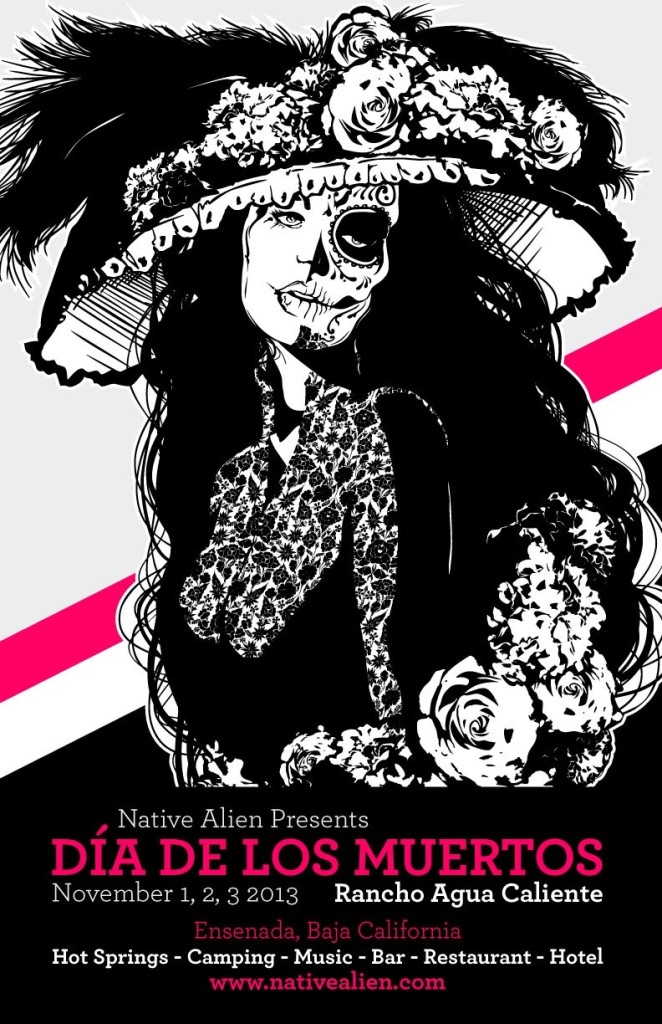 Native Alien will be honoring the Dia de Los Muertos traditions by decorating the Rancho Agua Caliente cemetery, chapel and our community altar with orange Mexican marigolds, candles, and ofrendas (offerings). Everyone is encouraged to bring photos and memorabilia for the altar, as well as the favorite foods and beverages of your lost loved ones!
+ + + + + + + + + + +
DJs and performers from both sides of the border are coming together to celebrate Día de Los Muertos.
(Talent listed in alphabetical order)
Alien Tom (Native Alien, Eurobar – LA)
Alonso Morales (Eurobar – ENS)
Armand Padila (Midnight Music – Mexicali)
Astrid V (Eurobar – ENS)
Bala (Interconnected, Organic Thursdays – SD)
Clutch (Respect Thursdays – LA)
Devochka (Eurobar, Be Happy, Girls All Around – SD/ENS)
DiMa (Eurobar – ENS)
Dook (V.S. SounD – SD)
Greg Eversoul (Denver, CO)
Jason (Almost Famous, Deep, Pure Filth – SD)
Joe Rodriguez (Eurobar, Gravy, SLoBB DIsko – LA)
LX Gibran (SD)
Luz (TJ)
Mataz (ENS)
MediaKillers (SD)
Minoru Hirata (Eurobar, Stripped Recordings – ENS)
Priest (West Side Dubz, Almost Famous – LA)
Raiz (Droid Behavior – LA)
Red Sonya (Native Alien, Eurobar – LA)
Ro Ortega (KRZFCKRS – ENS)
Scott Roberts (SD)
Thunder Makers LIVE (ENS)
Vino Tino LIVE (ENS)
Viry Romero (Blush – Tecate)
+ + + + + + + + + + +
Funktion-One Sound by VS SounD
Lighting by Auditive Live Sound
+ + + + + + + + + + +
Purchase Tickets: https://www.nativealien.com/events/
+ + + + + + + + + + +